2.4 Meter FLYAWAY VSAT antenna
Its dual skin technology means that high profile accuracy is maintained and operation from C band through Ku, X and Ka band frequencies is possible.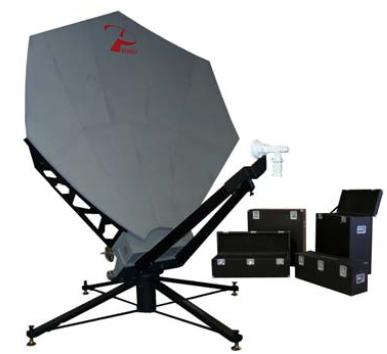 The larger size make it suitable for regular C band VSAT applications as well as for applications where there is a significant transmit eirp requirement, as transmitter (BUC or HPA) powers may be kept moderate by using the extra transmit gain of the larger dish. It is ideal for satellite TV broadcast, military or similar satellite application.

The antenna is lightweight and rugged and may be set up in 20 minutes or so. The antenna comes in seven packing cases for safe and efficient transport. Total weight is 741.5 lbs.
Options include feed assemblies for C, Ku, X and Ka band frequencies as well as motorised arrangements.